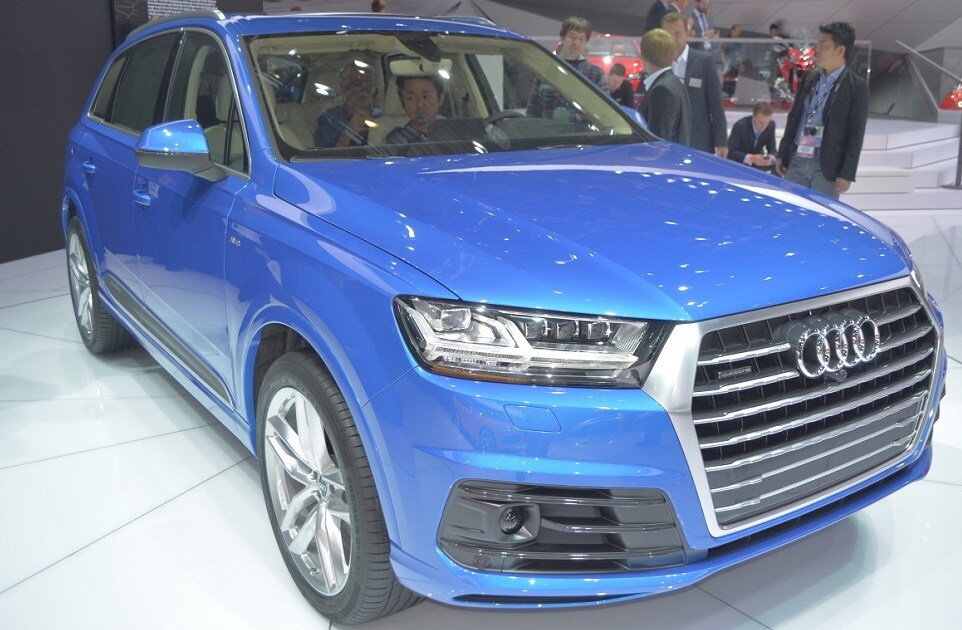 It may seem hard to believe, but the current Audi Q7 has been on the market for eight model years. Not one to rest on its laurels, Audi used the 2015 North American International Auto Show in Detroit to unveil the all-new 2016 Audi Q7 crossover utility vehicle.
Redesigned from the ground up, the new 2016 Audi Q7 shares approximately three things with the current crossover: its basic five-door shape, its ability to comfortably seat seven passengers and, of course, its name.
Though a touch shorter in overall length and slightly narrower, the all-new 2016 Audi Q7 actually offers more interior room compared to its predecessor. Credit the engineers at Audi who took the time to rewrite the playbook in interior packaging.
Able to comfortably carry two passengers in the third row, the new Q7 offers over 10 cubic feet of cargo space when all seats are occupied. Use the power controls to fold the third-row of seats out of the way and cargo volume increases to 31.4 cubic feet. With both the second and third rows folded, cargo space expands to a cavernous 73.3 cubic feet.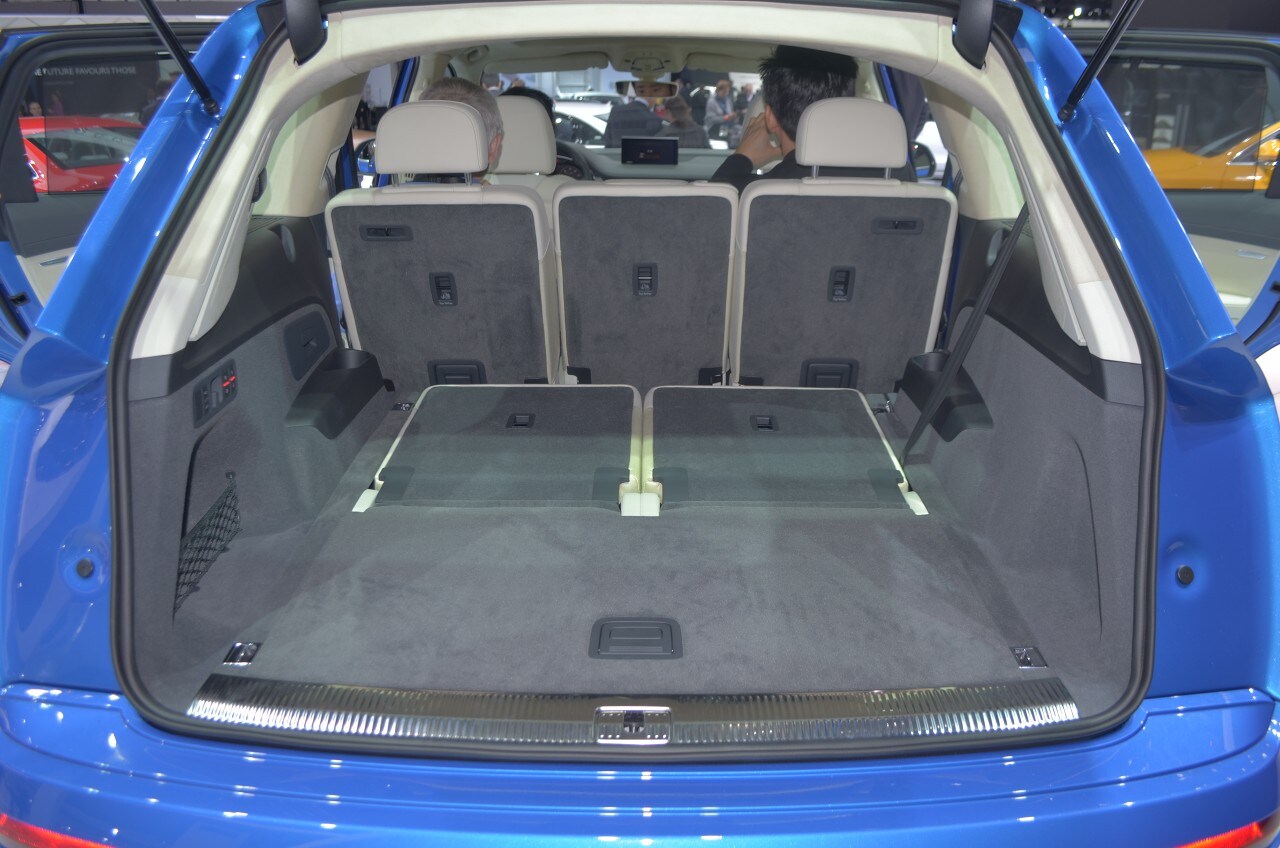 Besides finding more interior room, Audi engineers also managed to gut the Q7 of as much as 716.5 lbs. of unneeded weight. Essentially, the new Q7 now weighs less than the outgoing model by more than the equivalent of 3.5 average American males.
With the resulting loss in weight and exceptionally slick new shape (the new Q7 has a cD of 0.32), the all-new Q7 is expected to be incredibly quick and fuel efficient. While Audi notes the new Q7 will launch in the U.S. with both a 3.0-liter 333 horsepower TFSI V6 engine and a 3.0-liter 272 horsepower TDI V6 engine, a plug-in hybrid powertrain was also unveiled in Detroit.
Dubbed the Q7 e-tron quattro, the plug-in powertrain uses a 6-cylinder diesel engine and an electric motor to push a combined 373 horsepower to all four wheels. The resulting 0-62 mph (0-100 km/h) time of 6.0 seconds, betters the TFSI and TDI models by 0.1 and 0.3 seconds, respectively.
Spacious, lightweight and powerful, the new Audi Q7 is also incredibly luxurious. The sumptuous interior is highlighted by two big screens: a massive 12.3-inch TFT display that can show information such as virtual gauges and navigation information, and a center-mounted screen that is controlled by Audi's MMI system.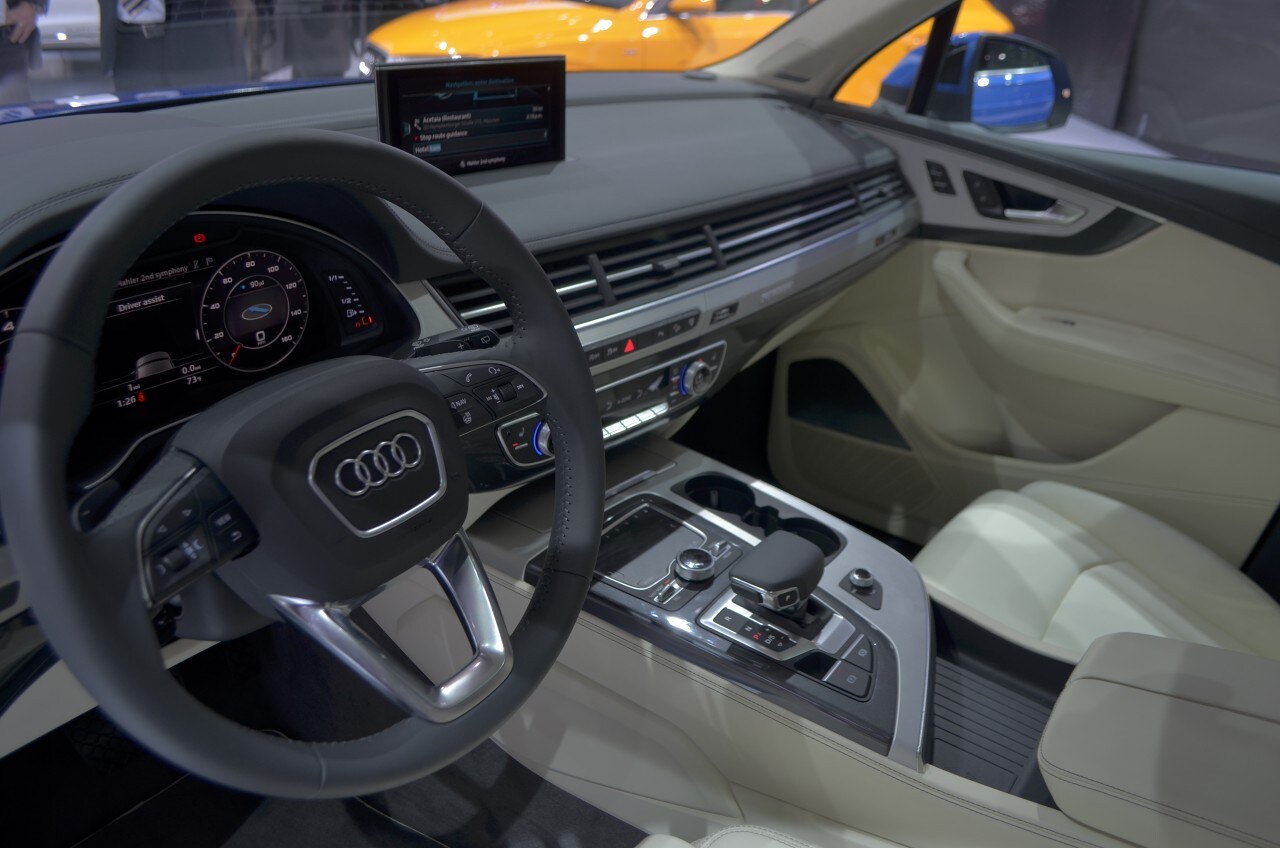 On top of this, the new Audi Q7 will also be available with up to two tablets for rear seat passengers. Using Audi's in-car WiFi, the Android-powered tablets can complete such functions as inputting navigation functions for the Q7's built-in navigation system, or be used to access films or games on Google Play.
The all-new Audi Q7 will be available at Audi Bellevue beginning early next year. Look for more updates to this page as we learn more about the latest and greatest model from Audi.